We were going to Africa – AFRICA, the trip of a lifetime. Exotic, wild, enticing, mysterious Africa, but it became both the best of times and the worst of times.
Rather than go to the most touristy parts of Africa, which are too much like North America, and rather than choosing the most remote areas, which might be a little too inaccessible, we decided on Central and East Africa. Specifically, we went to Tanzania, Zanzibar, Zambia, Botswana and Zimbabwe.
Our Brief Itinerary
Jan 14 Canada to Amsterdam, Netherlands
Jan 15-16 Amsterdam (2 days) to Dar es Salaam, Tanzania, Muse Boutique Hotel 
Jan 17-19 Dar es Salaam (3 days) – Urban Rose Hotel 
Jan 20 Flight Dar es Salaam-Victoria Falls (via Johannesburg) 6 am-12:25 (7 hrs)
Jan 20-26 Victoria Falls & Chobe Game Park (7 days) (Hotel Jan 20, 21, 22, 23, and 26)
Jan 20-23 (4 days) & 26th Victoria Falls N1 Hotel 
Jan 24-25 Tlouwana Luxury Permanent Tent Safari (All Incl Food, Safaris, River Crse, Village) (3 days, 2 nights)
Mon Jan 27, 8p Train: Livingstone to Lusaka, Zambia, Zambesi Express Train (3-5 days)
Jan 28 Arrive Lusaka 1:20p, catch Zambia railway 2:20p to Tazara Railway
Jan 30 Lusaka: Change to Tazara Train to Dar es Salaam 2:20, Arrive Dar 12:10p
Jan 30 Dar es Salaam – Jan 30-31-Feb 1 (3 nights) Urban Rose Hotel 
Feb 2 Ferry to Zanzibar Feb 2-11 (10 days)
Feb 2-7 Stonetown (6 nts) Al-Minar Hotel
Feb 8-11 Jambiani Island (4 nts) Coral Rock Hotel 
Feb 12 Ferry to Dar – Urban Rose Hotel
Feb 13 Flight Home – Dar es Salaam-Amsterdam-US/Canada
Feb 14 Arrive Home
Finding Cheap Flights
We had always dreamed of going to Africa, but each time we checked, it was way beyond our budget. This time we checked seven months in advance, and that made all the difference. We found return tickets under $1500 CAD each, which was amazingly reasonable. Suddenly with flights this low, maybe we actually could go to Africa, and we did. It was still an expensive trip, over $10,000 CAD, even with the inexpensive flights.
Finding Decent Accommodation
The funny thing about Africa is that if you want decent accommodation, that is electricity, running water, indoor flush toilet and a comfortable bed, then you probably won't find that in the smaller towns that we preferred.
Our problem is that we don't like big cities, and the cities in Africa are just like in North America – actually worse – for loud, noisy, clogged with traffic and packed with people. This is what it is like walking, never mind driving:
If you opt for out-of-the-way smaller towns, your accommodation will be modest to say the least. You could have a room in someone's very modest home, or in a small lodge, but you probably won't have electricity, running water or an indoor toilet. As well, you will have to travel long distances to see what you want to see.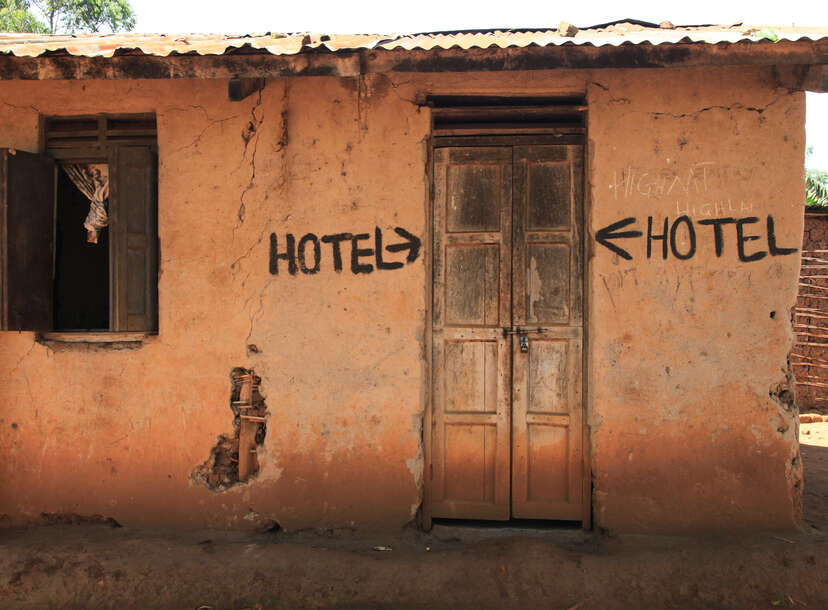 As a result, we opted for tourist cities with modern accommodation, as well as a remote Luxury Tent Safari.
Traffic, Touts and Pandemonium
We had little choice but to opt for the big cities – bustling, loud, aggravating cities. Added to the bicycles and cars weaving in and out around pedestrians missing them by inches and hordes of people in those big cities, there are touts constantly harassing you to buy their goods.
The people are poor after all, so you tolerate the hawkers at first, and buy a few things, but after a few days, you politely say no thank you, and no thank you again, and no thank you again. By the third day, you change your tone with a stern NO thank you, and NO THANK you, and NO THANK YOU. But they are relentless.
In the end, you scowl, totally annoyed, turn your back and walk across the street, where they may (or may not if you're lucky), follow you. It's difficult to escape them because they are everywhere. One fellow even came into our hotel, up to the second floor balcony where we were happily relaxing, bringing his wooden animals and jewellery and a pleading sales pitch that turned into a demanding overture. We had a hard time getting him to leave. At this point, one complains to the front desk who feigns shock and promises it won't happen again. Sure.
Now if you like big cities, and all of this traffic, hustle, clamour and street vendors bothering you, you will enjoy the pandemonium. For us, the time in big cities was not the best of times, but we did find things we enjoyed, which we will happily share with you. The thing is that we pride ourselves on being honest about our travel experiences, so we have to share the bad and the good and the so-so experiences.
Prepare for Changes
Things in Africa can change. Your itinerary may be thrown out the window just like ours was, making it more like the worst of times. Because the train connections were simply not available without staying several days in a small town, and still not being certain of a connection after that, we reluctantly cancelled our train journey back from Zimbabwe to Tanzania. This was after we had confirmed train connections online well before departure, and noting that tickets were available a day before departures or even on the same day.
We had been excitedly looking forward to the train journey after reading stories about wonderful first-hand train experiences on Seat61.com. Imagine going through several game reserves looking out your window to see elephants, monkeys, gibbons, zebra, and giraffes! Barring the common break-downs, this epic journey would have taken three days and two nights in a First Class Sleeper for only $61CAD per person!
Instead, we were forced to stay longer in the big cities, and had to book an expensive flight from Zimbabwe back to Tanzania. 
If We Had To Do It Again
What's the bottom line? If we had to go to Africa again, we would only go for two weeks, or maybe three, with a stop in Amsterdam or in a similar mid-way city for 2-3 days to adjust to jet-lag. Following that, we would fly onward from Europe to Africa where there is little change in time zones.
In Africa, we would rest a day or two in that city in Africa to arrange transport to a Luxury Safari tent camp and have a fantastic safari for 3 full days. Believe it or not, 3 days is long enough if you choose the right safari. You will go on Morning Safaris (up at 5 am), Afternoon Safaris (often 5-7 hours) and Night Safaris. In between there are River Safaris and Village Tours. You will have days and nights full of activities, lifelong memories and the best of times. *Watch for a detailed post on our Luxury Tent Safari.
End your 1-2 week holiday with 3-7 days on a beautiful quiet non-touristy African beach: Zanzibar, Jambiani Beach
What Our Revised Itinerary Would Look Like
Day 1 – Flight to mid-way point Amsterdam to adjust to jetlag
Day 2 – Arrive am with little sleep, rest, dinner.
Day 3 – Explore Amsterdam, canal cruise, traditional food, local culture
Day 4 – Flight to Dar es Salaam, Tanzania
Day 5 – Explore local area of Dar es Salaam with a tuk-tuk 
Day 6, 7, 8 – Train from Dar es Salaam, Tanzania to Victoria Falls, Zimbabwe 
Day 9 – Victoria Falls – Sidouli Hide, Elephant Art Centre
Day 10, 11, 12 – Tlouwana Luxury Permanent Tent Safari, Botswana
Day 13 – Flight to Stonetown, Zanzibar, walk the maze of streets, boat to Prison Island
Day 14, 15, 16 – Remote beach on Zanzibar
Day 17 – Ferry to Dar es Salaam
Day 18 – Flight Home
This would be an amazing African vacation, for the best of times, in our opinion.
*If you'd like to learn more about little-known inexpensive countries and our crazy adventures,

click the link

below on Amazon to get the book, Travel To Little Known Places.