Halloween Apples, Peanuts and Cake,
If You Don't Give Us Any,
Your Toilet Will Shake!
Remember that? Ok, that was even before my time, before indoor toilets even! – but it has a lovely rhythm, n'est ce pas?
Moving to Ontario has been almost like exploring another country. On the prairies, few people go all out in decorating their homes like they do here. It was a surprise to see scary Halloween monsters everywhere I looked, from on the street, to in the country, to at the stores.
Here's are the gloomy decorations on our neighbour's lawn.
Some places are really elaborate, others put out just a few things, but you often see people outside setting up their creepy Halloween decorations for hours on end… spreading cobwebs on the trees, making stuffed witches, setting up toothy-grinning pumpkins and eerie graveyards, ominous skeletons and gauzy ghosts.
Shops go bananas for Halloween too.
Not far from us, in a little town, the whole downtown area looks like it's gone mad! Take a closer look at the lamp posts!
Then there are the Corn Mazes. These are loads of fun for adults and kids, and scarier than one might expect! Screams and yells and shocked giggles emanate from all directions! One could go bloomin' mad in there! Especially if you can't find your way out!
The Spooky Woods is not for the faint-hearted either. Lurking behind every tree is a… monster, or a ghost, or a bleeding corpse or – oh no – a giant man with a booming chain saw raised high above his head and echoing through the woods!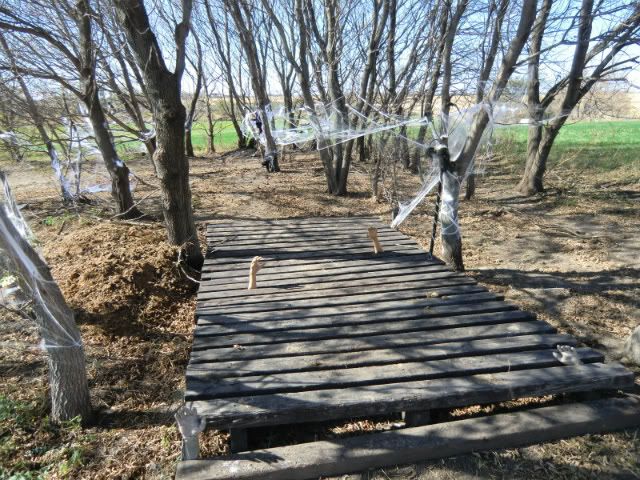 There is a witch's mate here too… a wicked black cat named Elliot.
To read about strange Halloween traditions in other parts of the world, like Europe, check this site Halloween Traditions in Europe.
Be careful out there.
Oh, and by the way, in case you're wondering what kind of Halloween treats to buy, Yahoo Food did a survey on kid's favourite Halloween candy. Here are the results. 21% of respondents voted for Reese's Peanut Butter Cups. The top five candies: Snickers, M&Ms, chocolate bars, and Kit Kats. What candies do they hate? Licorice, raisins, candy corn, gum, and "fruit" (does that even count?). See Favourite Halloween Candy.
[mapsmarker marker="52″]