We both felt the nausea and dizziness of altitude sickness in the giant Andes Mountains, yet somehow enjoyed the incredible experiences we had in Ecuador. In fact, I had forgotten how sick we were until T reminded me long after the trip was over. Amazing that I only remembered the good stuff.

Altitude sickness starts at about 8000 ft and we were often up over 10,000 ft. The highest point in the Andes is over 22000 ft. As air density drops, there is less available oxygen and hydrogen, so it feels like having the flu or a bad hangover – headache, fatigue, dizziness, insomnia. The Andes is the world's highest mountain range outside of Asia's Himalayas and the Andes are the longest mountain range in the world stretching over 4500 miles. I thought we would never get out of there!
There were many nights in the mountains when we collapsed into bed at 9 pm, whining about not feeling good, then slept badly, and didn't get up until 9 am – but we were on holidays, so it didn't matter.
After the incredible Devil's nose train ride,

the awesome Ingapirca Incan Ruins,
and charming Cuenca high in the Andes…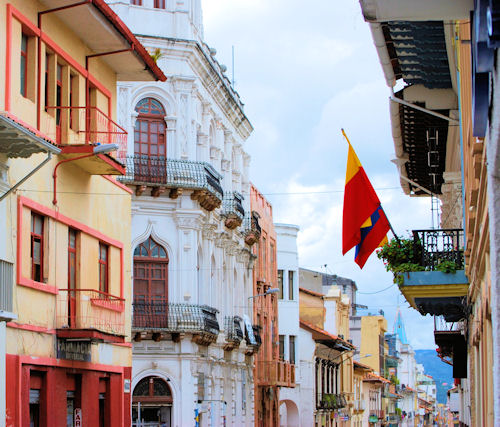 we continued to drive up the long mountain range back to Quito.
In the mornings we would feel a little better, but although there were fewer hairpin curves, it was still up and down the mountains with constantly changing altitudes – and we would start feeling sick again.
Mount Chimbarasa, the highest mountain, did nothing for us. But the breath-taking vistas and broad valleys couldn't fail to impress, and at least provided a pleasant distraction.
Riobamba was a big noisy city, not nice at all – my research had said it was very nice… just goes to show that "very nice" is a matter of opinion, and you should always ask or tell why specifically a place is nice or not nice. One person may be looking for peace and quiet while another wants a party atmosphere with lots of people. Two very different reasons to say a place is nice, or not so nice.
Banos, on the other hand, was a pretty town (in our opinion) set in a very deep valley at the bottom of volcanic Mount Tungurahua, which still hisses up from time to time.
I gathered rocks for my little Sasia at the foot of that volcano with some trepidation, as I listened to the whistling and heaving and puffing from inside the mountain.
Banos means Spanish Baths, so named for the hot springs generated from the about-to-burst flaming heat inside the mountain.
The volcano became active again in 1999, and "The Throat of Fire" still continues to have major eruptions periodically, including a fiery show summer 2013.
After looking at 3 hotels, we settled on the Posada El Marques, with a huge white king size bed and a wall of windows facing the waterfall, Cascada de La Virgen.At $35 a night, not bad at all. A relaxing lounge area next to our room also offered full views of the waterfall.
I fell into the big white bed enjoying the view out the window of the waterfall… and slept for two hours…
T can't stand noise and crowds so he said that he "took one for the team" when he went out on the town with our driver, while "the sick one" opted to fall back into the big white bed. Damn, I wanted to see some dancing and Latin music.
They reported back that it was crazy noisy, with young people drinking, electronic music that was blasting loud, and wall to wall people.  T said he tried to encourage our handsome young driver to talk to the young girls. They had a few dances, but T just couldn't handle the heat (read noise), and came home early.
After a relaxing massage and facial at the Spa the next morning…
We went to Centro Bano for cuy, the traditional roast guinea pig.
They told us it would be another 15 minutes, but when we came back they were sold out!

So we found other interesting things… men knitting…

A proud father and daughter…
A beautifully-lit church in the town squares that one will always find in most towns in Latin America…

The next day was the cable car over the steep mountains around Banos. I still felt sick enough without being on a swaying cable car, so again sent the boys off on their own. They came back with some pretty cool pics.
Somehow I always think food will make me feel better so I talked the boys into going out for French food at La Petite. The lamb didn't even taste vaguely like lamb. The chateaubriand was ok, according to the boys. What did I expect trying French Food in South America? Idiot.
Oh, but the carrots and green beans and chocolate mouse were delicious! Chocolate always makes you feel better!
T was so excited that he found a bar with a big screen TV to watch the Superbowl that night! The driver, Mauricio, and I, looked at each other blankly. We were a lot less enthused, but we "took one for the team". When we arrived, the game was about at half-time – T was told the wrong time, so was a bit miffed.
The bar probably had the first projection screen ever made, so needless to say, the picture was a bit fuzzy.
The other patrons, Ecuadorians, of course, were looking at the screen with mild interest, saying, "Oh, I think eet is American FOOOOTBall."
Being a bit of a gambler, and searching desperately for a way to make this long evening a bit more interesting, I bet T $10 that the Pittsburgh Steelers, currently down 21-10, would win against the Greenbay Packers.
While Mauricio and I talked and drank and ate munchies, T was absorbed in the game. Pittsburgh burst ahead at one point, but Greenbay eventually won 31-25. You can't imagine how T gloated as I paid him the ten bucks.
As we headed back on the road, I felt much better, but then after climbing up and down more mountains, I wished we had turned off a while back to go back to Quito along the beach. Too late – we only had the driver for a few more days. I could only dream of beaches…
We had hoped to take side trips to the Papallacta Hot Springs and the Mindo Canopy Adventure to zip line over the cloud forest, but we were both too sick to even think about it. Besides, we had already been to the Amazon jungle. See our post: Amazon Riverboat Cruise.
Arriving in Quito, we spent several hours finding a nice hotel in Old Quito, the Boutique Plaza Sucre, $75 night. Generally speaking, big city hotels in any country are always more than smaller towns, so if you want to save a little, stay in the smaller cities/towns/villages. Feeling sick again, or still, we both crashed immediately and slept 3 hours till 8 pm.
I wasn't hungry, hadn't been for days, but T was starving. He went out searching for take-out food. Nothing was open! He ate some almonds and a slightly-smashed cookie and water.
But when we went to go to bed several hours later, the bed was soaked! The water bottle leaked all over the middle of the bed. No one wanted to sleep in the "wet spot", so with several thick towels down the middle of the bed, and a peck goodnight, we slept on our "own sides" of the bed.
I just wanted to go home. And I said to myself that I'm never going through mountains again!
The next morning, as we squeezed out onto our tiny balcony while it poured rain, and still feeling ill, I said, "Whose dumb idea was it to spend our last 5 days in a big city? We both can't stand big noisy cities!?"
Smart Ass says, "Oh c'mon, there's the lovely fresh mountain air, gently interspersed with diesel fuel, and the monotously sweet chanting of the woman down the street selling lottery tickets, not to mention the familiar car alarms going off every 10 minutes…" And we are in quiet old town. Ha.
We contemplated changing our flights to leave earlier, but the internet was as slow as molasses. Finally after 4 hours at the front desk, we got our flights changed to leave two days earlier.
Silly really, because once our altitude sickness soon settled down a bit since we were not driving up and down mountains,  we started walking around Old Quito discovering it's magical charm.
The main street in Old Quito, Calle de la Ronda…
Now we were a little sad to leave Ecuador… But altidude sickness or not, we had so many great adventures!
[mapsmarker layer="2″]
WIN a TRAVEL BAG and FREE access to all our travel tips, photos and stories![jetpack_subscription_form]