We were on our way to a cabin high in the cloud forest of Panama, but we still had a few days of driving to get there, and Panama offered more delightful surprises.
[mapsmarker marker="61″]
Playa Cambutal
Although there were only crude signs on the sides of shacks and fences, it wasn't difficult to drive around the bottom of the Panama peninsula – at first.
Travelling through rolling hills and lush valleys, we came to the village of Cambutal where we saw signs to  the beach. Feeling adventurous, we bounced along to the end of a dirt road which then wound through farm land. Apparently the road ends at Cambutal because of the mountains. We had no idea what to expect when suddenly the road opened out onto a beach –  Playa Cambutal, a black sand beach. What a nice surprise!

Caught Skinny-Dipping
We expected to have to return the way we came, but we were intrigued to find that the rough dirt road still continued through the tropical hillside along side the ocean, and continued for miles and miles around the point. Of course our little 4-wheel drive jeep was helpful in order to ford 3 streams and climb rutted tracks.
In the end we were amply rewarded with long stretches of a sandy beach with not a soul in sight. It was in the area of Playa Morilla but we were really not sure what beach it was. We decided to take a break at this unknown beach and since no one was around and it was a brutally hot day, we went skinny-dipping. Swimming in the refreshing clear blue water was great fun until we were caught unaware by a fellow riding a bicycle appearing through the bushes, but he was quite far away and looked more embarrassed than we did as he quickly turned around and continued on his way.
Las Lajas
Finding both groceries and accommodation proved a bit difficult as we crossed first a low mountain range and then a higher mountain range heading inland to Santiago, then to Las Lajas on the coast. Las Lajas was a very busy town, with a raging wild surf. The wide beach was 10 miles long, there was a parking fee, and all the cabanas on the beach were full. We had read that there were sharks at this beach and with its hard-packed sand pounded down by great blustering four-layer surf waves, we were not too disappointed that we had to move on.
Panamanian Hospitality
Driving a little further down the road, we came to some private thatched-roof structures on the beach, where you may drive your vehicle right into the car port. We drove under one hesitantly as it seemed to owned by a private family, but they motioned us in, offered the use of their change room, and after swimming on the beach all afternoon, offered us a bucket of clean water to rinse off the salt water before changing. It was a blazing hot day with burn-your-feet golden sand, so we truly appreciated their outstanding Panamanian hospitality.
David
At the city of David, we finally found a nice hotel and wanted to treat ourselves to a lobster dinner, but we were starving and the taxi driver couldn't find the restaurant for over an hour. Of course, that made the food taste twice as good. We always say – when you have guests for dinner, make sure they are good and hungry before you start serving the food. That way it will taste twice as delicious. 
Driving from Volcan to Guadalupe was a grueling 5-hour drive through pouring rain on windy mountain roads with periodic construction. The distance was a mere 23 kilometers.
Los Quetzales Eco-lodge
We were so excited to arrive at our final destination on this part of the trip: Los Quetzales Hotel and Eco-lodge at Guadalupe – Cerro Punta, Chiriquí: Los Quetzales Hotel & Ecolodge.
High in the cloud forest near the top of a mountain at 7260 feet above sea level – that's a mile and a quarter straight up – our little log cabin was waiting for us! This was a true retreat with no civilization around us.
Arrival at Los Quetzales
When we arrived at Los Quetzales, we were shown around the lovely lodge lounge and dining room.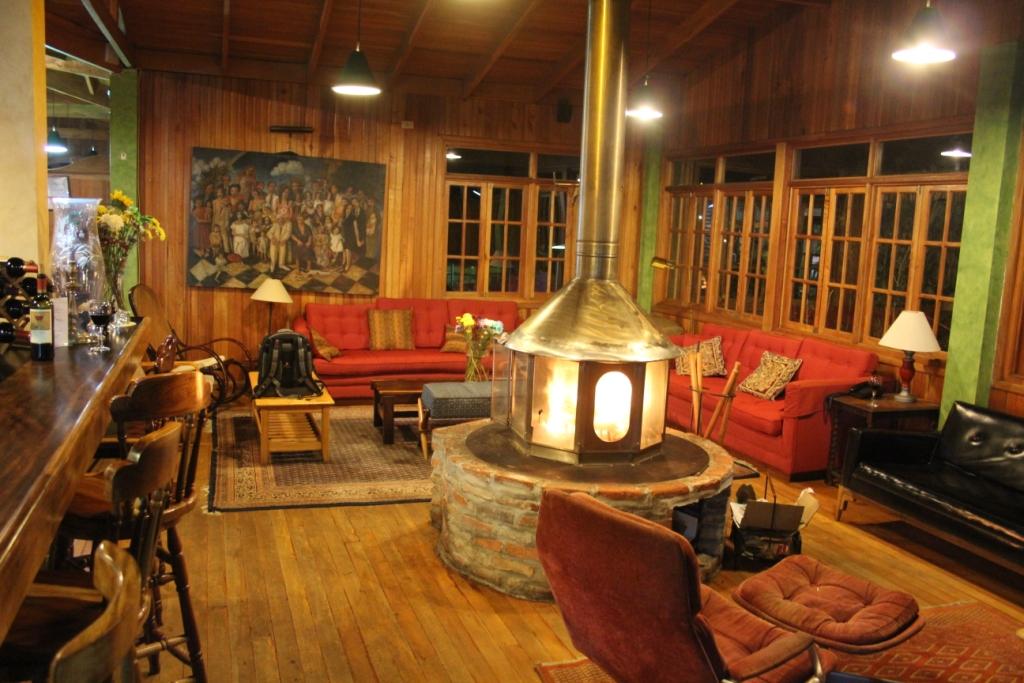 Then we were asked what we would like to be brought up to our cabin for supper. We had assumed that we would have to come back down for supper so this was a pleasant bonus. We chose a shrimp dish, a chicken dish and a salad. When we couldn't decide about dessert, she called the Chef out of the kitchen to bring us some samples. The Flan and the Hungarian Chocolate Cake were delicious so we added those for dessert. Next she asked what we would like brought up for breakfast. Wow.
Fording Rivers
Normally, the lodge uses their large 4×4 jeep to drive up the mountain to the cabin, but after perusing our small 4×4 they said it "should make it". Really? The road was that bad?
Never in our lives have we been on a more challenging  road. First of all it was straight up, so steep that you often felt like you were about to flip over backwards.  Second, the road was a narrow path through dense rain forest and the road, if you could call it that, was filled with huge rocks that rocked the vehicle from side to side like it was a toy. Thirdly, it wound sharply this way and that for what seemed like miles. Every 5 or 10 minutes we would ford a shallow stream. Yes, the road was that bad!!!
Robinson, our escort, asked us to stop at one point while he got out and walked ahead in the pouring rain, then he came back and guided us forward, seemingly oblivious to the rain.
There was a unanimous, "Holy Shit!" as we forded a deep stream and suddenly we plunged deeper. The water came up to the bottom of the windows of our little Mitsibushi! While Robinson beckoned us from the other side to keep coming forward without stopping, we were clenching out teeth and gripping the sides of the jeep. I'm not quite sure how we made it through, but the vehicle was equipped with an exhaust pipe that twisted up to the top of the jeep. It was a scary experience for us, especially since the stream (more like a river) had a good strong current pulling us sideways. We imagined floating off down the river to disappear forever into the wilds of the mountain rain forest.
Arrival At The Top of The Rain Forest
At the base of a long high footpath to our cabin, Marianos, our eco-guide, met us, and through the downpour, the two men removed their rain coats, tossed our luggage on their shoulders, arranged their raincoats carefully over the luggage, and proceeded up the steep bank to our cabin, another 200 feet up the mountain. It was all we could do to keep up.
The Cabin
Suddenly, as we turned a corner to go up the last steep set of stairs, a beautiful 2-storey log cabin appeared like magic, almost hidden in the thick jungle.
The cabin was incredible! There were windows on all four sides with the trees and leaves brushing up against the windows.  We were in Cabin 3, which was smaller than Cabin 4, but had these lovely windows all around so we could enjoy the rain forest in every direction. The floors and walls and furniture were made of native wood, and there was a set of french doors to the balcony. A fire was burning in the fireplace. It was a huge log cabin tastefully decorated and tucked cozily into the cloud forest with every window looking out onto the glistening greenery of the highland primary cloud forest of the Volcan Baru National Park. What an ideal retreat!
Los Quetzales Lodge (and Spa) owns a 400 hectare reserve that has been protected by the private efforts of its founders in 1970. It is the only eco-vacation resort in Panama or Costa Rica that offers overnight accommodations inside a national park, and it is also the highest elevation lodging in Panama. The Volcan Park is adjacent to Parque Internacional La Amistad, which straddles both Costa Rica and Panama.
Amazingly, there are no biting insects in this perfect mountain retreat – no mosquitoes or no see-ums and no dangerous snakes either.
Spanish Instructions
In Spanish, we were instructed on the use of the kerosene lanterns – there was no electricity, and on the use of the water heater.
The guides left us alone in the rain forest and we scurried to see the views from the balconies on every floor, awestruck to be sitting on top of the jungle.
Then we lit the four lanterns placing them in different areas of the cabin, tickled by the flattering soft light and musing on how unflattering and harsh the electric lights are that we normally use.
We listened to the patter of the rain slopping against the tin-sound of the fibre-glass roof. It was louder upstairs.
We shared a bottle of wine, stoked the fire, watched the hummingbirds and played backgammon, followed by a rollicking game of strip poker. Talk about exotic places for an enchanting evening; cuddling in the rain forest is pretty darn romantic.
That evening they brought our dinners up the mountain by horseback! And they were hot! Amazing. And delicious!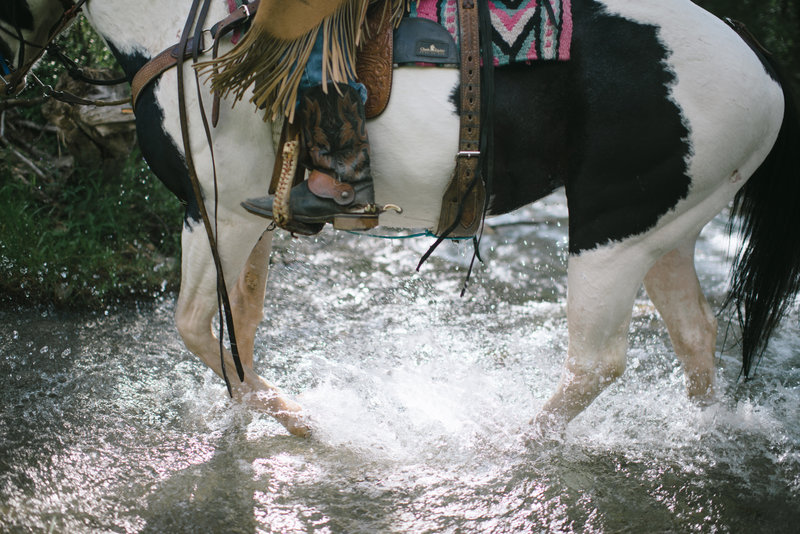 This cabin was just gorgeous, and came with all the amenities. The only things missing were facecloths and sink stoppers, which I'm sure they would have brought at our request.
We slept peacefully under the stars under thick warm blankets upstairs looking out at the rain forest and listening to the rhythmic drum-beat of the rain on the roof.
Morning In The Cabin
Somehow, we have no idea how, Marianos, our eco-guide, knew immediately when we woke up. There was no other accommodation in sight, and we had not seen another soul since our supper was delivered last night. At any rate he appeared at precisely the right moment to start the fire again in the fireplace. We tried to converse with him a little in Spanish, but it was difficult, and he just focused on getting the fire started.
Shortly after, our breakfast was brought up, again by horseback. How did they keep the eggs from breaking as the horse no doubt had to use tremendous effort to make the steep climb? Since we had a full kitchen, we could make our own fresh breakfast, and they always sent a ton of food with a great variety. 
4 Kilometer Hike in the Cloud Forest
The second day, we were up at 7 am to go on a 4-kilometer hike to the waterfalls. Uphill all the way. Shining rocks, layer upon layer of decaying vegetation, every kind of fern and moss you can imagine, and the roar of steady rain seeping through the dense foliage, dripping off delicate tips and glistening on silken leaves would have made great photos – if I wasn't busy trying to keep my camera dry inside my jacket. There were extravagant orchids, some just budding. You could almost feel everything growing as it gleamed under the constant rain and fresh mountain air.
I almost lost a rubber boot in the thick mud between some rocks, and the narrow path ran between some solid rock walls where the water poured down between the rocks like a waterfall.
We passed rushing streams and clambered over tiny wooden bridges. When I thought my legs were too heavy to take another step, we went another 1/2 kilometer straight up where we finally saw a small waterfall pouring down the other side of the mountain.
While we were always on the lookout for the strikingly colourful quetzal bird, we never spotted one. The trip downhill was much faster.
Exhausted and soaking wet when we arrived back at the cabin, we tried and tried to light a fire, but wet wood is the best you can get in the rain forest.
Our guide promptly came into the cabin (how did he know), and deftly lit the fire with the aid of a can of kerosene. There are 2-way radios in the cabins, but our personal eco-guide had an uncanny sense of when to come by to check on us. 
We spent hours just keeping the fire burning with the wet wood. The temperature was 12 degrees C.
Whole fresh eggs and bread, cheese and fruit were brought up for a late breakfast after our hike. Isn't it amazing what a huge appetite results from fresh cold mountain air, rain, and a brisk early morning walk? 
Funny How That Happens
It was funny. When we arrived, the pitter-patter of the rain on the roof was romantic and soothing. By the time we left 3 days later, it was a constant hammering on the roof that kept us awake half the night.
Rain Pounding Down
Funny how that happens.
[mapsmarker marker="61″]
PS: If you feel like this content is valuable and you wish to share it with others, please do so. We appreciate any re-tweets or re-posts of this content. 
Originally posted 2016-09-15 13:36:52. Republished by Blog Post Promoter