I was so excited to return to my favourite small town in Hungary: Gyor.
Near the border of Slovakia and only an hour and a half to continue to Vienna, it's a pleasant two hour drive from Budapest to Gyor…
Gyor (pronounced "Dyur") is packed with charm, and has a quiet community atmosphere with the storybook river Raba running through it…
E and I had spent a lot of time here several years ago when she lived in Gyor. She had a pretty little apartment just off downtown.
Since I was there in winter, I had a major memory image in my mind of walking in the fresh moist air which was barely below zero, continuing over the little bridge watching big fat snowflakes falling into the little river below. It was picture-book romantic.
We would walk downtown, go to little cafes, eat hot fresh Langos (http://travellittleknownplaces.com/best-hot-chocolate-cheap-food-budapest/) from an open window in an alley, or go shopping. I bought so many unique clothes there, and a beautiful long winter coat that I wore for years.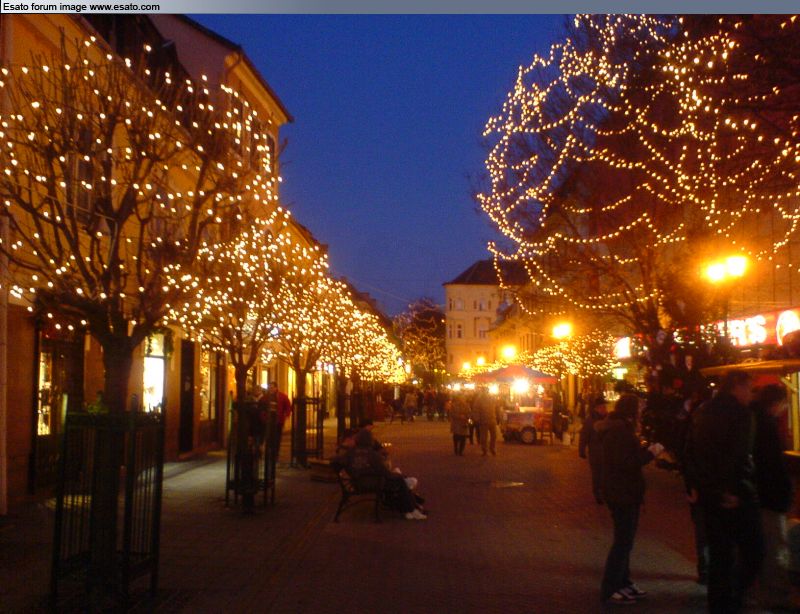 Winters are mild in Hungary, and the snow melted almost as fast as it fell.
For sure, I thought to myself, you have dramatized and idealized this town far beyond what it will ever be when you visit again.
This time it was summer, and green…  but it was like coming Home…
It was not only just as delightful but even more dreamy and whimsical than I had remembered.
The downtown area was still full of charm, with people relaxing, eating ice cream cones, wandering leisurely down the streets, uncrowded, unique shops, mouth-watering food…
Gyor also has thermal hot springs and a castle…
So if you want to discover an off-the-beaten-path, little known place in Hungary, spend a few days in charming Gyor! Winter or summer, it's enchanting.
[mapsmarker marker="30″]
If you'd like to learn more about cheap little-known countries and our crazy adventures, I'm writing a book to tell you exactly that.
Sign up below to hear more about the book, and get it FREE in the first 24 hours after it is first published.
Originally posted 2014-10-02 08:44:25. Republished by Blog Post Promoter