Provence is full of quaint French villages and towns, and gorgeous landscapes. If you're wandering around Southern France, do just that – wander.
Wander… meander…. stray… stroll… sit on a bench…. stop for lunch… have a coffee… get lost… this is the best part of travelling in France.
Allow enough time to spend half a day in a town or village that you find especially charming, and don't be in a rush to get to the next town. This was our biggest mistake, and we know better. Our excuse was that we had a house sit in France and friends to visit in Budapest, so we tried to see everything in between. Major miscalculation! You don't need to book hotels in advance either, we discovered; there are always small places to stay.
A rental car is really the best way to see Southern France because trains tend to go from one big city to another. Local trains go to some smaller towns, but few go to the little villages, where the local culture is real, and tourism is at a minimum.  As for a car with a driver, our research revealed that it was prohibitively expensive in Europe.
Arles is full of charm, and is a larger town of 53,ooo people just inland on the Rhone River, but its greatest feature is the huge Roman Amphitheatre…
This was Van Gogh's countryside, complete with Olive groves…
Van Gogh's Starry Night Over the Rhone…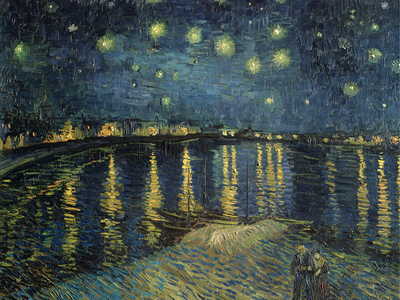 Baux-De-Provence is a charming medieval village of just 400 people where ancient towers blend into the cutting, chiseling, notching and crenelating of the rock and stone…
Saint-Rémy-de-Provence is a another pretty and authentic village of 11,000 residents with a traditional village lifestyle. 
Every French village has a long history of famous people who lived there. Take St. Remy, for a brief example:
– Nostradamus, a 16th C prophet, was born here
– The Princess of Monaco lived here for several years
– Several famous French novelists and queens were born here
– Van Gogh was a patient at the psychiatric hospital here for one year in 1889
Some typical French art seen today on the walls in cafes/hotels…
We searched and searched for the 12th C Feudal castle in or near Lamanon but could not find it, and ended up staying in a forest in a kind of elegant hunting lodge called Domaine de Roquerousse.
The cabin was clean and plainly furnished, set in a quiet forest.
Our troubles began when we went to the rather refined dining room for dinner and no one spoke English.
They kept telling us there was a buffet, but on the buffet we found only a tiny amount of cold sliced meat and cheese, a few cold pasta salads, and some dry bread. It looked old and unappealing, with a very small selection. The buffet was expensive, but the meals were twice as much. Then it seemed like there were other rules with the buffet which they kept trying to explain and which we never did understand.
Everywhere else in France, we were able to communicate with our limited French, or they, with limited English, but in this dining room we just could not understand each other. It was total confusion, and they were as frustrated as we were.
We waited to maybe order a meal rather than the buffet, but no one came back to our table (likely no one wanted to deal with the crazy English-speaking couple). We waited and waited. Finally, a girl came to say, in gestures, to go to the buffet because they were closing!
We jumped to the buffet. Some food is better than none…
The next morning, the nice lady on the GPS sent us down a narrow road where we could not turn around, and which took us directly to this farm yard…
We tried to look apologetic, putting our palms up, but the farmer simply ignored us…
[mapsmarker marker="17″]
<a href="http://www.hypersmash.com/dreamhost/" id="kN127″>read more</a>
Originally posted 2014-06-03 06:46:14. Republished by Blog Post Promoter