AFRICA! We were finally on our way to Africa. After years of putting this trip aside because of the high cost, we were on our way to experience the trip we both had on our bucket list of many years.
Flying to Africa
Just in case you're planning a trip to Africa, here are a few of the details of our flight. We already had the two-day stopover in Amsterdam to break up the long flights, and now our early morning 1 1/2 hour flight to Paris, then 8 hours to Nairobi, Kenya, and finally 1 hour to Dar es Salaam, Tanzania. There was no jet lag since Amsterdam and Dar es Salaam are in the same time zone. We only had one hour to make the connection to Nairobi in Paris, and that was a mad race to arrive at the gate barely in time. Then the flight attendant grabbed my carry-on bag saying emphatically that there was no room in the overhead and ushered us past the gate to board. All my medications were in that bag! It was long gone before I could even object.
Airport Lounges
Splurging the $40 U.S  for a lounge in Nairobi for free food, free drinks, and a quiet relaxing atmosphere was worth the price. The high cost of food in airports quickly adds up to astonishingly high amounts, especially if you add in a drink or two. Lounges therefore, while feeling like an unnecessary indulgence, are often cheaper than eating at a noisy airport cafe.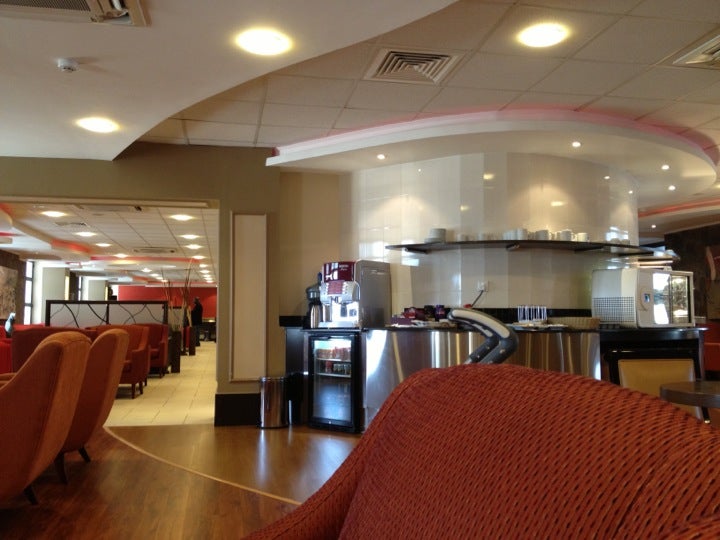 My carry-on did not show up in Nairobi. I tried not to panic.
Mechanical Problems
The plane was about to take off from Nairobi to Dar es Salaam when the pilot announced that there were mechanical problems. We had to return to the gate. First response is "Oh no", but a thoughtful moment later, repairing any mechanical problems was definitely a high priority before take-off. We sat in the plane and waited. One hour later we were on our way.
Lost Luggage
We were relieved to see my carry-on with meds in Dar es Salaam airport, but my checked bag was not there. It apparently never left Nairobi. After filling out lost baggage forms and being assured of it's arrival at our hotel the next day, we set off for our hotel. We arrived exhausted.
The Urban Rose Hotel
Although the Urban Rose Hotel was not in the best area of central Dar es Salaam, the Executive Suite #2 had 4 rooms with a big kitchen and bedroom, a living room with leather couches and TV, plus coffee, bottled water, big bath towels and air conditioning. The rooms were clean and the bed was very comfortable. Best of all, it had a long large balcony over-looking the bustling streets.
Breakfast was included with full breakfasts, omelets, and hot African, Chinese, Indian, Thai and continental foods. The service in the banquet room was excellent! They even let you make up a tray to take up to your room.
The service at reception was also superb. They made many calls to track down my luggage which did indeed arrive that afternoon, and also sent someone up to set up our wifi. They also had someone run out to buy us a sim card charging $1 (including the price of the sim card)!
City of Dar es Salaam
Dar es Salaam is a city of over 5 million people with bustling noisy streets, open sewers, half-constructed buildings, people shouting and rushing in every direction, buildings crowded tightly together, and people always carrying armloads of something. It is one of the poorest nations in the world. We stood on our balcony watching the hustle and bustle below, while horns blasted and people rushed about doing their business.
Dar es Salaam is an industrial centre, a major port in Indian Ocean, and one of the fastest growing cities in the world, but also one of the most depressing cities in the world. It reminded us of Manila in the Philippines, Managua in Nicaragua and Belize City in Belize. Starting as a tiny fishing village in 1857, Dar gradually became an established port and major trading center on the Indian Ocean. There are few attractions in Dar es Salaam and unfortunately it is not a city most people spend a lot of time exploring.
Kariakoo Market
Deciding to check out the famous Kariakoo Market turned out to be quite an experience! We took a cab (5000 Shillings =$2.50 CAD) the 15 blocks or so. Cars sped down the streets winding between people and moving so fast that it was amazing they did not hit someone. The Kariakoo Market was shockingly chaotic and packed with hundreds of booths and thousands of people. We could barely move through the heavily-laden bicycles and people carrying boxes and baskets, as well as cars and people moving in both directions. At the booths, you could find spices, fruits, vegetables, clothing, shoes, housewares, live music, and freshly made drinks and foods. There was a huge indoor area that was stifling hot with no air conditioning, and an outdoor area along the streets that was blazing hot in the afternoon sun, while we tried to navigate through the masses of people in both.
Kariakoo Market – Inside
Thinking it might be cooler inside, we wormed our way inside, then couldn't find our way out in the stifling heat inside. No air-conditioning. Dead heat hanging in the air like lead. Dragging your feet, gasping for air, aisle after aisle, goods piled high above your head preventing a view of the way out.
Kariakoo Market – Outside
Expecting a lovely breeze of fresh air as we finally got outside, all we got was the smack of blistering hot noon sun beating down on our red faces without mercy. Not a breath of a breeze. Just hot dusty sultry air, and hundreds of sweaty people shoulder to shoulder. But still, it was a bit cooler than inside.
Taro Root & Jackfruit
I stopped and tried the Taro Root – kind of tastes like sweet potato.
Then I tried the huge jackfruit – kind of tastes like sweet mushy apples.
Sugar Cane Juice
The best thing of all was the Sugar Cane Juice which, in the heat, was fantastically refreshing. We watched him make it from fresh sugar cane put through a press that looked like a mini-wringer-washing machine that squeezed out the sugar cane juice. To the extracted cane juice, he squeezed in fresh ginger root, fresh lime juice and fresh passion fruit. So good!
Suspicious Boy
At one point, while I was drinking my sugar cane juice, we were listening to a little make-shift music on the corner across the street. People were constantly pushing and bumping us trying to manoever through the thick crowd. I noticed a young boy always seemed to stay at my elbow, and he was watching me. I tucked my purse tightly under my arm and moved away, and as I glanced back, I saw him shrug in disappointment as he turned away.
Escaping Kariakoo Market
Tired of the heat and noise and battling the crowds, we searched street after street for a taxi with no success. Stumbling along, it was incredible to see the manoevering of big loads, and one man actually got hit by a car in the jungle of people and vehicles.
Tuk-Tuk
Finally, we found a tuk-tuk (or BodaBoda) to get us out of there. What a relief. Soaked with sweat, we squished into the tuk tuk and bounced home over the rough streets breathing in the hot dust and exhaust fumes. T could barely walk when he got out. Gratefully, we stepped into our A/C suite, and collapsed.
After showering, we watched a sudden downpour. Then we headed downstairs to a huge delicious buffet supper serving Chinese, Thai, Indian and continental dishes (20.000 Shillings = $10 CAD).
The Street Life of Dar es Salaam
The next day we went for a walkabout in the area. Dar es Salaam is a safe city, though there is petty crime, such as purse snatching. Here are some typical street scenes.
Wandering Baby
Rounding a corner on a busy street, we saw this little guy all by himself playing on a little mound of dirt under a tree. It was a little alarming that he seemed to all alone.
We continued walking, and then saw his Mother just down the street busy setting up items to sell.
Simba
Along the way, I bought two oil paintings for $10 CAD from a young Masai-Bunda guy that chatted us up. Simba was quite a character – friendly, animated and informative. He told us he paints and teaches dance to children.
Mandoza Restaurant
We continued walking to the Mandoza Restaurant, supposedly the best barbecue in town. There were two huge outdoor grills and many tables set up outside in the open area. It looked good.
I had the highly recommended Sekela Chicken and T had the barbecued fish, both of which were over-cooked and dry. The meals were served with under-cooked fries, and warm coleslaw.
There were yummy side sauces like yogurt mago sour, spicy hot, and tamarind. The butter naan was delicious, but there were flies all over the food. We barely ate.
Service to Men
The sign on this building means "Service to Men". Now what do you think it means?
Art
Our new friend, Simba, met us near the restaurant with more paintings. I bought a gorgeous painting of African women for $25 U.S. that I love to this day. As a gift, he gave me one of his small paintings. It made a nice ending to our last day in Dar es Salaam.
On one of our tuk-tuk rides, it started to rain. As we passed some school boys in uniform on their way home from school, I snapped this picture through the raindrops.