We couldn't decide where to go so we just closed our eyes and spun the globe. Crazy way to choose a place, but exciting none the less. Wherever the finger landed was where we would go. We landed on some little dots in the middle of the Atlantic Ocean. What the heck is that, we wondered? Closer inspection revealed that it was a group of islands called The Azores. We knew absolutely nothing about them, but that's where we were going. 
[mapsmarker marker="53″]
The lost islands, the flower islands, the lonely islands, the forgotten islands, the pastoral isles – these are just a few of the names given to these nine tiny islands sprinkled in the middle of the Atlantic Ocean.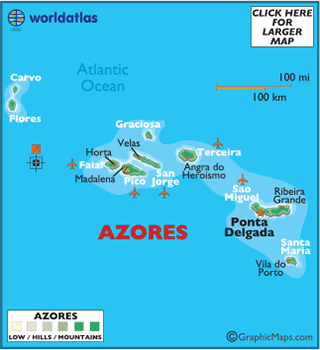 It was 8:00 o'clock in the morning when we were about to land in the town of Angra do Heroismo on the island of Terceira. The sun was rising, tons of water rolled below us, and high black cliffs outlined the island coastline, with farms extending to the very edge of the cliffs. Further inland bright green hills covered with a patchwork quilt of fences met a more forested area in the interior.
We descended rapidly into the Lajes airport. Lajes was also a U.S. military base and the runway was lined with huge heavy camouflage planes that sat along one side like fat cockroaches. Upon execution of a successful landing, the Azorean passengers laughed and clapped, after all it was a very short island runway. Most of the passengers were Azoreans who had emigrated to the east coast of Canada and the U.S. years ago and were returning for Christmas to visit family.
The plane taxied quickly toward the two small buildings of the airport. This was the first indication that we were not in a highly commercialized centre. Normally you expect a long, anxious wait as the plane taxies down miles of runways. This ride took less than 2 minutes, and there was no electronic passageway to connect the plane to the building – the second indication that we were in a small airport. We stepped directly out into the open air – a soft warm humid air that was delightfully refreshing after a seven hour claustrophobic airplane flight. There is nothing quite like the ocean air. One can almost taste the ocean as your lungs open to the fresh clean air, moist and sparkling.
We stepped onto the tarmac smiling, and noted that there were also no signs indicating where to go. Most passengers were walking confidently towards one of the buildings. We followed the others into the building, and as we waited for the baggage, we observed the Azorean passengers.
The middle-aged and older women were chunky in shape, and had an Italian look; they sat with their knees apart. The men were surprisingly small and short, under five feet,  and had a casual curiosity in their manner. They were much quicker to laugh than the women. The younger women were trying hard to be modern with high fashion hats, heavy boots, and brown lipstick. The young men had an innocent way about them but were also trying deliciously hard to be "cool".  Everyone was wearing black or dark-colored clothing, especially black leather. We noted that the Azoreans, like many other peoples of the world, attempt to enhance themselves by copying Americans. As for my photographer and myself, we were equally, if not more, out of place, with our light-coloured summer clothing, and our light brown and red heads of hair, respectively. Although it was around 20 degrees C, it was considered winter here. For us, it was like summer, but our summer apparel was definitely not appropriate. Everyone was bundled up in warm sweaters, jackets and boots. Oh well. 
We were met by a guide from the Turismo (tourist office) who turned both cheeks for me to kiss, and while trying to cover my surprise, I attempted to conform to this island custom. She had brought a package of tourist information on each of the islands, and had our SATA island to island airline tickets.
The taxi driver, Miguel, drove lickety-split down the narrow windy roads of Angra do Heroismo, while we swayed from side to side and tried to keep from becoming motion-sick. The tall skinny houses were packed tightly together and their front doors faced so directly onto the street that if you stepped out your front door while a car was driving by, you would be in great danger of being swept down. Stone sheds with thatched roofs caught my eye, and clothing hanging out on lines to dry sat high in the air in diagonal lines between houses. Undulating green hills whizzed by in a dazzling flash of florescent green, with stone fences enclosing tiny pastures the size of city house lots, and the cows were so close to the road that one felt like they could lick your face were they so inclined. Once, we had to swerve around a man riding a donkey loaded down with small milk cans.
It's not hard to see why the town of Angra do Heroismo, Terceira, Azores, was classified as World Heritage by UNESCO in 1983. 
We arrived at our hotel, a re-built 18th century farm house called the Quinta do Martelo.
The innkeeper, Gilberto Vieira, was a young man, 30ish, handsome, gentle, and eager to welcome. The original farm belonged to his grandfather, who was at that time, considered wealthy. The rooms had high ceilings with wood beams, and the bedrooms had giant four-poster beds. Each door had a huge old-fashioned key, including the main house door. All of the floors  and furniture were made of island-grown woods, and reproduced authentically including the use of the original techniques of construction. Heavy wooden shutters covered the windows set deep into stone walls that were two feet thick (just look at our window ledge below)! Overall I felt that the hotel was quite austere, almost monastery-like, but the charm and authenticity was obvious, and the warmth and hospitality of our hosts – Gilbert, who barely spoke English, and his wife, Leica, more than made up for the somewhat sombre atmosphere.
Although people living in a temperate climate like this may find it difficult to believe that Canadians, used to temperatures in the thirty to forty degree below zero range in winter, would find it cold in their hotels, but indeed we did. Walking on the floors here was like walking barefoot on ice! I went to sleep with three layers of clothing and socks on, and on the second night I stole into an empty room and swiped a bed rug off the bed there.
This was only the first of many of the hotels, inns, and bed and breakfasts (called private home accommodation), that we found freezing cold. Since the islands do not have central heating and the walls of all buildings are made of either stone or cement, it is often warmer outside than inside. As we said earlier, it was winter during our stay with temperatures in the 18 to 20 degree range. As an aside, most hotels in the Azores do not have face cloths or facial tissue, though towels are always plentiful.
The Quinta Do Martelo is actually an ethnographic centre which means that it includes a restaurant, lodgings, a poultry yard, a pig pen, a hand mill, a saw mill, a herb and kitchen garden, an  orange and fruit orchard, a tennis court, a mini-golf court, a rabbit house, and a stone thatched-roof shed. There are also shops for making  baskets, blue and white pottery, candles, furniture, barrels, tablecloths, as well as a wine cellar, blacksmith shop, and so on, all producing products in the traditional style. The shops are full of old hand-cranked machines and antique-looking tools that are in full use to create the original hand-made articles. Even hinges and hooks are made here, and in the pottery shop, an 82 year old man teaches his art to the younger workers. Originally, the Quinta Do Martelo was just about selling typical rural produce, but the complex started expanding and became the fascinating place it is today.
An authentic farm style restaurant featuring typical regional food was the first project that Gilberto began at the Quinta Do Martello and we found it a wonderful experience in itself. The traditional soup (Holy Ghost), meat stew (Meat Alcatra), and bread were cooked in a clay pot in a wood stove, and had all the heavenly elements of home cooking. The soup was full of potatoes, bread, and cabbage and had superb flavor. The casserole had large chunks of potato, yam, beef, chicken, cabbage, and sausage. If we were to choose from all of the restaurants we ate in on the islands, our first choice would be the Quinta Do Martelo.
Leica and Gilberto truly enjoy what they are doing. They work long hours, and go to great lengths to achieve the cultural richness of authenticity, down to the very last detail. You'll see washtubs, wooden locks, rat traps, fishing rods, oven instruments, orange crates, wooden rain gutters, horse hair rope and so on. The hosts want you to use the whole house and to feel completely at home. This is definitely a place to gain a true understanding of the essence of the Azorean culture. The rate for a double room with a car (unlimited mileage) and breakfast was $150.00 Canadian. Now the prices are 80E ($115 C) per day including breakfast and use of all equipment at the centre, but no car. Check out their video at the top of their home page: Quinta do Martelo.

So far, the island of Terceira in the Azores was amazing and unique! Yes, this throwing a dart on the map approach was going to be a fantastic adventure, no doubt about it. So if you are having a little trouble deciding where to go, we highly recommend… a spin of the globe! 
[mapsmarker marker="53″]