With Irish place names like Balleylickey, the Burren, Hag's Head, Klonikilty, Skibbereen, Salthill, Graiguenamanagh, Sheep's Head, Beara and Dingle, driving around Ireland was filled with curiosity. What would a place with such an odd name be like? There was a wild variety of landscapes, but like most countries, it was the little-known, off-the-beaten path places that were the most beautiful.
We drove in a circle that started in Limerick, went North to Sligo, then East to Dublin, then south  along the coast, then inland to Cork, then South along the coast, then around the three peninsulas: Beara, Kerry and Dingle, and finally to Limerick and Bunratty. Most of the time we took secondary roads through the smaller towns.
We've already told you about the castle stays: Falling Down The Castle Stairs and Living Like Royalty in Cabra Castle, and Hag's Head at the Cliffs of Moher. Here are the highlights of some of the other places.
The Burren is a 300 km region of limestone in County Clare. It`s a lonely barren area with miles of cracked stone. Huge caves and rivers under the rock formations flood when it rains. The Burren is rich with ancient tombs, fossils, rare plants and Celtic crosses. The unusual limestone formation dates back to 350 million years ago and was formed as sediments in a tropical sea. Fascinating but personally, I found it cold and desolate.
Salthill is a popular holiday destination for Irish locals. With a two-mile promenade along the beach, visitors can enjoy the fresh sea air and watch the sunset on Galway Bay, or sit out on the rocks.
Newgrange is a huge burial chamber from  3000 B.C pre-dating the Egyptian pyramids. Construction alone would have taken 300 people 20 years to complete. I sat in a wheelchair in the museum area with my broken leg, while T walked to the hillside and explored the chamber.
Wicklow County is an amazing scenic area with magnificent green valleys between lakes and totally awesome views in every direction as you drive through the Wicklow forest and mountains. For us, it was one of the most beautiful places on earth.
Glendalough is an old Monastic settlement South of Dublin in County Wicklow founded in the 6th C, still well-preserved. The beautiful County of Glendalough is a favourite week-end escape for Dubliners, and maybe just as beautiful as Wicklow.
Waterford is known for it's quality glassware: Waterford crystal, established in 1783, by two brothers. Isn't it amazing that, over 200 years later, it has kept its reputation for the finest exquisitely-crafted crystal glassware worldwide? The town itself is a Viking town with a medieval flavour and it has a river flowing through it. The river valleys around the city, however, are wonderful and the coastline is dazzling, offering all kinds of water, cycling and equestrian sports. Nearby towns, like Kinsale, have equally high-quality crystal.
Cork is a big industrial city on the Southern coast of Ireland with 29 bridges. It was initially built on an island on a branch of the River Lee but has slowly built up onto the banks of the river on each side.
Kinsale is a very pretty town and is the gourmet capital of Ireland with dozens of good restaurants. Narrow streets all lead to the ocean dropping from the hills to a stunning harbor. Charles Fort on the harbor has massive walls with a maze of passages and courtyards that make for delightful exploration.
Klonikilty. What an intriguing name! We couldn't wait to get there, and it was a pretty little town on an inlet with authentic bars and Irish music, and our lovely B & B.
Skibbereen is a small, pretty, 19th century town a few kilometers inland from the sea. You can easily walk around the entire town. The Irish Potato Famine struck extremely hard in Skibbereen, where the mass graves can still be seen at the cemetery. "Dear Old Skibbereen` is a song that recalls those cheerless times. Listen to it here Dear Old Skibbereen, but beware, it's a tear-jerker. Ironically, Skibbereen is now considered one of the luckiest towns in Ireland because so many lottery winners have come from there. Look for the cattle mart, the country market and the farmer`s market where you get a feel for the agricultural old days and where you can buy home-made biscuits, Irish soda bread, jams, pies and fresh produce.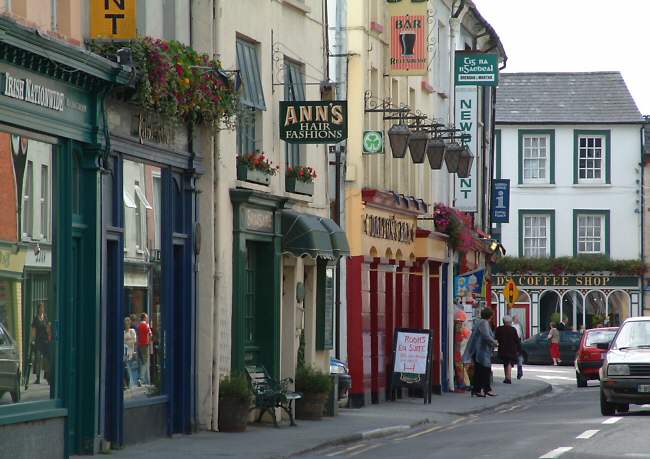 Baltimore is off even the secondary roads but is well worth the drive down to the cliffs on the water – dramatic rocky cliffs that have wild paths with big danger signs. Baltimore is almost at the southernmost tip of Ireland. We stopped at another pub (there must be 50,000 pubs in Ireland), in Baltimore and loved the warmth and ambiance, as usual.
T ignoring the signs…
Bantry is on gorgeous Bantry Bay at the top of Beara Peninsula. It is a market, fishing, and artistic town with a blend of modern and traditional streets.

Balleylickey. A tiny village and another wonderful name. A must-stop is at Mannings for cheese and wine lovers. See There Are No Restaurants In Ireland.
Glengarriff is also on beautiful Bantry Bay. Glengarriff is a relaxing village of 800 with great shops and pubs. This is where you start your drive around the amazing off-the-beaten-path Beara Peninsula.
Take a gander at some of the Irish place names on these signs we saw on our travels around Southern Ireland.
Stay tuned for the next post: The 3 Rings: Beara Peninsula, The Ring of Kerry and The Dingle Peninsula.
[mapsmarker marker="44″]