SOLAR LAPTOP
The world's first truly solar-powered laptop. It never needs to be plugged in! It "plugs" into the sun. When the sun isn't there at night you can run it all night long with its powerful battery. With a rugged design & durability, you can take SOL with you to the most remote places on earth. It has free software, too. You don't need to purchase any more software to get started. There are thousands of free apps available online with UBUNTU. In a world where 1 in 4 people have little or no access to stable electricity, the device is in high demand in Africa, Middle East and South America. Affordable at $400. Find out more, set to be released in Canada mid-December 2013.

SMART WATCH – Lady GaGa's Camera SGalaxy Gear
"The Martians are coming!" The Smartwatch can make and receive phone calls using voice control, send and receive SMS texts and snap "visual memos" with its camera. The catch – it will work only as a companion device for existing Samsung phones and tablets. You can make a phone call without using your actual phone. To answer a call, you just raise your hand to your ear to answer the call and talk. You can switch back and forth from watch to device because it is synced to your phone/tablet including calendar, call log, texts and email.
It is suggested that apps would enable the camera to translate signs when you travel or that it will also have a gyroscope and accelerometer that means the phone can function as an activity tracker. There are over 50 dedicated apps (in its app store) built for the small screen. They're Bluetooth-enabled and operate on both Apple's iOS and Android platforms.
A single battery charge will last 25 hours. The watch weighs 2.6 ounces and will come in 6 vibrant colors. $300 CAD, www.martianwatches.com
BOOT PURSE – Elizabeth Anne Boots
Paranoid that you'll lose your purse or it will be stolen? These boots come with pockets for your cell phone, credit cards & passports. Dance, travel, shop – purse free! https://www.facebook.com/elizabethanneshoes/info. $190-300.
LAPTOP/TABLET – Lenovo Yoga 11S
This so-called 'ultrabook' (lightweight, touch screen) PC mimics slate computers' best features and actually folds to become a tablet on-command, offering travel-ready flexibility without sacrificing laptop-level performance. Running Windows 8, $799.
READER – Kindle Paperwhite 2.o
Tablet screens can strain the eyes, are impossible to use in bright sunlight, and have an annoyingly short battery life. The Paperwhite is as easy to read as a printed page, and the new front-lit screen allows you to read in dim light. The processor will also be 25% faster. Other expected changes will be a new integration with Goodreads and a FreeTime parental control. The battery lasts about a week. $120.
SUNGLASSES: Polaroid's GL20 Camera Sunglasses
These are sunglasses that moonlight as a camera! Users can instantly capture or upload photos with the built-in camera and then display the image they just took on the glasses' LCD screens for others to see. The sunglasses contain a camera and 1.5-inch organic light-emitting diode screens that can grab and display images and video as well as store them on a chip in the earpiece of the glasses and transfer them to a computer via USB. No launch date yet, but keep an eye out for Lady GaGa modeling them. Polaroid.com.
SCARF with Hidden Pocket – Speakeasy Supply Co. 
Safely tuck your money, wallet, phone, passport, lipstick, memory cards, camera filters, maps into the hidden pocket. Thieves will be looking in your bags and coat pockets, not in your scarf. $50. http://www.etsy.com/shop/SpeakeasySupplyCo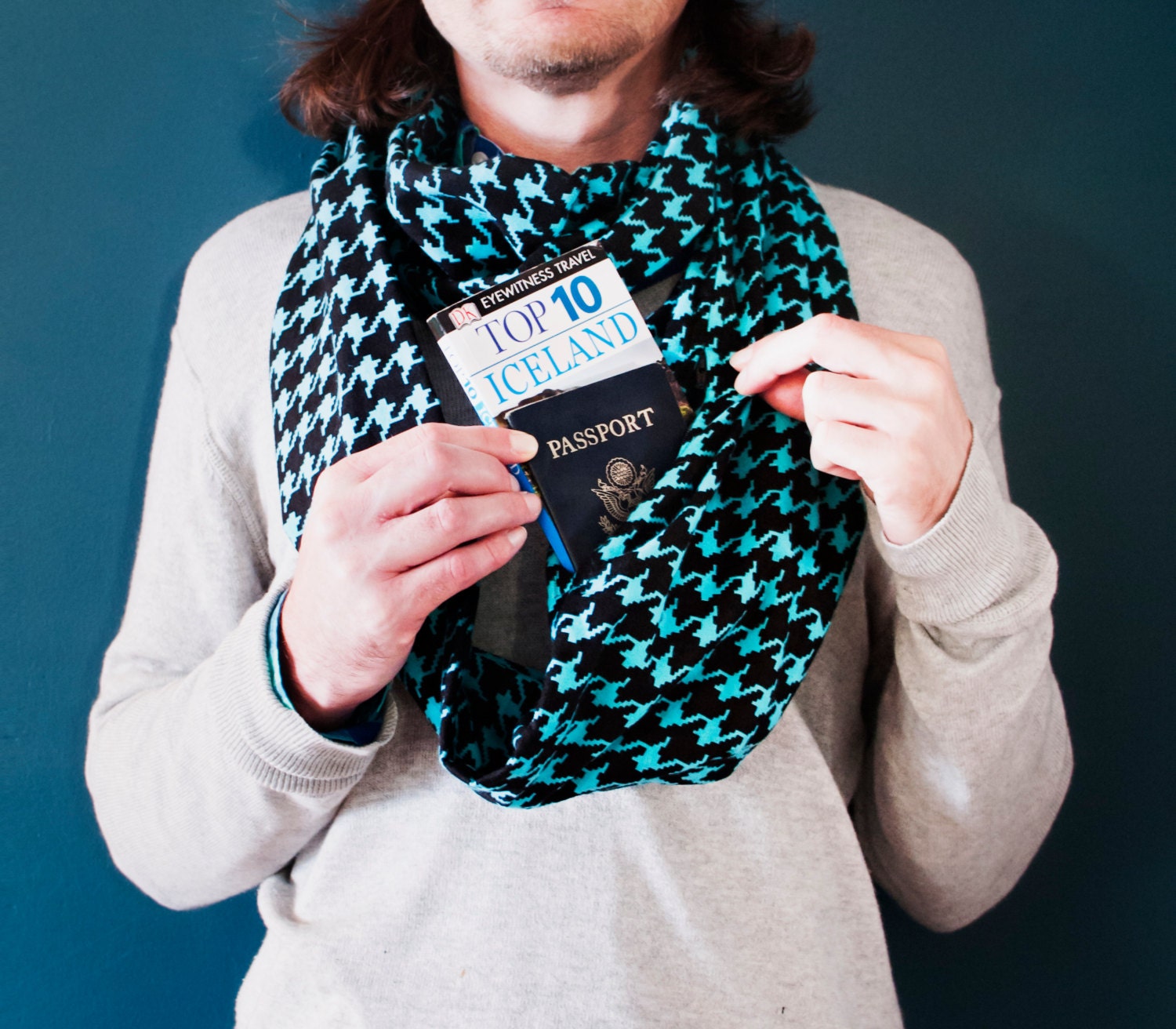 HEATED JACKET – Bosch PSJ120M 12V Max Heated Jacket
This could be very handy when travelling to several different places, some of which are colder, especially in the evenings. It has 3 quick warming areas, two in the chest, one in the back, 3 levels of heat, and will heat for up to 6 hours. It also has a USB charger for personal electronics in one of the 5 pockets. $180 plus battery $75 and battery charger $60. Pricey.
http://www.boschtools.com/Products/Tools/Pages/BoschProductDetail.aspx?pid=psj120m
WIRELESS EARPHONES: 
A new set of headphones from Greenwing Audio – dubbed split – is an MP3 player and headphones rolled into one. The Split looks like nothing more than a pair of earbuds but is much more complex than that.
Inside that tiny earbud is a small circuit board with a custom battery, memory chip, processor, accelerometer and high precision crystal clocks. The two earphones which start off magnetically attached begin to play synchonised audio when split. Split has a USB cable for recharging the onboard battery and transferring music to the onboard storage, it connects  via USB 2.0. Memory 64MB to 256MB. $155. Check it out right here. Image courtesy of Greenwing Audio (KickStarter)
CELL PHONE – Apple iPhone 5s & 5C
The 5c will be the budget option and comes with a plastic back in a variety of colors. The 5s will mostly likely have an improved camera, a faster processor and the IOS 7 software upgrade. The most exciting feature could be the rumored fingerprint sensor, which could be used for simplified phone security and potentially a method of secure, mobile payments. The 5S will have white/black/gold color options.
CAMERA – Sony NEX-5T
This camera offers interchangeable lenses with large-sensor image quality and speed Auto Focus. Most exciting is that it's the first Sony interchangeable lens camera to feature NFC (Near Field Communication). What that means is the camera offers one-touch Wi-Fi connectivity with compatible Android smart phones and tablet so you can have immediate image and video sharing between devices, and it can be shared via social media in real time. Comes in a kit with a compact, versatile 16-50mm motorized om lens (model SELP1650), colours in silver, black and white. $700.
CHARGERS: Innex ElectroHUB
This is the device that charges all of your gadgets at once…wirelessly! It is a wireless charger that lets you juice half dozen electronic gadgets at once (no more tangled sets of cords in your luggage or lost in strange rooms). You plug ElectroHub into the wall, place up to six devices on the 6×9 inch surface and wait for them to charge. The hub works with mobile phones to e-readers to game controllers and provides a full charge within standard times. The catch is that you'll need to swap ElectroHUB batteries into your devices before they'll work with the wireless charger. The hub weighs about 11 ounces. $39, including a set of ElectroHUB batteries (batteries cost $10 per set). Innexinc.com.
IPAD KEYBOARD – ZAGGmate
A protective glossy aluminum case doubles as a Bluetooth keyboard for the iPad, and a desk for quick notations on the go. The catch – ZAGGmate charges separately and does not double as a charger for the iPad, and it adds nearly 13 ounces to the iPad but only about 1/4 inch in depth. $99 for ZAGGmate with keyboard. Available at chain electronics stores/departments. Zagg.com.
SPEAKERS: ChicBoom Keychain Speakers
ChicBuds are retractable ear buds that can attach to a key ring or hole in your MP3, but now the ChicBoom Keychain Speakers, thumb-sized boom boxes, keep keys and music in place providing surprisingly decent sound (2-watts amplification; single charge offers four hours of quality sound). Options: little blue box with leopard sidings, the heart-shaped speaker or the bubblegum pink speaker ball. A built-in rechargeable battery plugs into your computer and allows you to juice up while listening to your iTunes library in some far away hotel room. It connects to just about any listening device.$29.99. Chicbuds.com.
GPS: Earthmate

If you're planning on doing any backwoods hiking, mountain-climbing or safaris, you might want to you consider this handheld GPS and text-messaging unit that works where cell phones don't. Not only does the palm-sized item hold a sensitive GPS system, it also delivers one-way email messaging. It works by satellite, which means that you can use it even when cell phone service is non-existent, and it ncludes barometric altimeter readings, NOAA nautical charts, aerial imagery, and topographical maps. Earthmate can be powered by the sun when other forms of energy are unavailable. $300 plus $10/mo for Satellite service. Delorme.com.
VIDEO CAM – Kodak's PlaySport Video Camera
This is the video cam that can't be broken. Waterproof, rugged, durable and pocketsize HD video camera is waterproof up to 10 feet, can be dropped up to 4 feet, features a full 1080p HD video and 5 MP still capture, autofocus, image stabilization, built-in software with a USB cable output so as quickly as you shoot you can edit and share on social media with a 3-step sharing button. An edit window makes it easy to trim, add voice over, or mash-up your creations. Records up to 10 hours of HD video with an expandable SD/SDHC card slot (up to 32 GB). Comes in black, red, green, white and aqua, and compatible with Mac and PC. $179 when launched. Kodak.com.
SOLAR IPHONE CHARGER – Mi Suny iPower
For iPhone 3 series and iPower 4 chargers, you can now use the sun to charge your iPhone. The iPhone fits like a glove into the Mi Suny hard shell case worn with a cord around the neck exposing the backside solar panel to the sun for ongoing charges. The front display of the phone remains exposed for use. The catch – it takes about 8 hours to get a full charge from sunlight alone, but if you are in a hurry and nowhere near a plug, two hours of direct sun will give you 30 minutes of talk time on a 3G network. $100, Misuny.com.
LAPTOP/IPAD CASE – Neoprene Laptop Tote Bag/Neoprene ipad Envelope
These cases are stylish and made of durable Neoprene. The padded, feather light Laptop Tote Bag, looks more like a purse and has two roomy deep inside pockets to store chargers, gadgets, keys, folders, notebooks and guidebooks. The Neoprene Scuba Blue Envelope is form fitting and perfect for storing an adapter, phone or keys. $60-70 Laptop Tote Bag, $40 Neoprene Envelope. Builtny.com.
IPHONE CASE – Pelican i1015 case
The Pelican i1015 case is a high-impact, heat- and chemical-resistant polymer shell with a kind of a mini-suitcase look, and a clear coating that allows you to watch videos, or listen to music. It also fits Blackberry Curve, Storm, and Pearl; the G1 by T-Mobile; and the Nokia 5800, E63, E71, E75, N78 and N79. Catch – it's a bit clunky and does not fit easily into a purse. $38.80. Pelican.com.
SMARTPHONE – Sony Xperia Z
Sony's Xperia Z, with its 5-inch 1080p display, claims to be waterproof in up to one metre of water for 30 minutes. It has the capability of shooting HDR footage — taking video in three different settings and combining them for a clip that's greater than the sum of its parts. Only available in the UK $840 CAD. AndroidCentral.com
BACKPACK – Kensington Contour Overnight Backpack
Those who prefer backpacks to laptop bags often do so because backpacks can hold a lot more stuff. This backpack gives users the carrying capacity of a backpack plus the ability to zip through security, thanks to the bag's ability to split in half and lie flat on an X-ray. $90.00 CAD.
ROUTER – D-Link SharePoint Go II Mobile Router
For business travellers, staying connected to the internet means staying alive. There are plenty of options like tethering, using mobile hot spots or the good old-fashioned hunt for Wi-Fi. This router has "2.4GHz 802.11n connections to broadband from either an Ethernet cable connection, Wi-Fi hotspot or a 3G/4G USB modem."  Also the router's lithium-ion battery can be used to charge other devices when an outlet is nowhere to be found. $125 CAD.
PHONE – Spare One
All it needs is one AA battery and a local SIM card to make and receive calls without high fees. The one-touch emergency services button is large. You can still dial 911 without a SIM card if a GSM tower's nearby. With up to 10 hours of talk time, it also offers emergency tracking features, extreme weatherproofing and a built-in light source. Great for action sports buffs and extreme tourists. $100 CAD, www.spareone.com
 LUGGAGE TRACKER – Trakdot
With this GSM chip-equipped monitor, packable in any bag, your luggage is easily tracked using a companion app, or email/text updates. It is notepad-sized and is an FAA-approved gizmo (battery-powered, it automatically sleeps once aircraft reach certain speeds). $49.95 plus $12.99 annually.
A camera with an Android operating system (think one-touch photo sharing apps and easy upload to WiFi networks), Bluetooth support and interchangeable lenses, and you get a connected digital camera. Features include 18MP photos, 1080p HD video capture, 10-300mm f/3-5.6 zoom options, online-enabled upsides, multimedia creation abilities and swappable perspectives. Think downloadable applications that endlessly extend the device's features, and boundless potential for fun Facebook posts. $400.
CHARGER – GearPower Mobile Power Station
This portable power pack charges tablets, smartphones, cameras and other USB-powered devices through the power station's USB 5V 1A power port. Slim and lightweight (.25 pounds), it includes adapter tips for Samsung, Sony Ericsson and Nokia devices, as well as Micro USB and Mini USB connections. An LED indicator displays the current power level; it has short-circuit and overcharge protection and temperature control technology. Includes a protective carrying case. $39.95, from IOGEAR
IPAD COVER – Logitech Ultrathin Keyboard iPad Cover
A sleek, lightweight cover goes double duty as a sturdy cover and Bluetooth keyboard. The magnets in the iPad snap the cover into place to create a groovy stand. Black, white and red. $99.99, logitech.com
WATCH – The Pebble Watch
A Smartwatch that connects to iPhone and Android smartphones using Bluetooth, alerting you with a silent vibration to incoming calls, emails and messages, and run applications without having to take out the phone — handy at times where travellers are afraid of losing or theft of their phones while travelling. Battery lasts 7 days! Catch – does not work with Blackberry, Windows Phone 7, or Palm phones at this time. White, silver, black, red, orange. $150, getpebble.com
SECURITY CAMERA – Dropcam
Set up the little blue-eyed camera at home and connect to it (easily!) via the Web from your laptop or smartphone. It not only records continuous video, but it'll also send you alerts if it picks up noises. For the security-conscious. $149.
LOST KEYS – Hipkey
Always losing your keys/cell phone? Attach the Hipkey to whatever you want and your phone sounds an alarm if it's moved out of a designated area. It's supposed to beep until you find it, but during testing it sometimes beeped for no reason at all. $90.
TRAVEL ADAPTER – 4iBattz Mojo Slim Universal Travel Adapter
As light and compact as a pack of cards, the iBattz has three adapters that fold up and let you plug into outlets in more than 150 countries (except India and South Africa). It also has a USB and a standard port, which lets you charge two devices at once, and a handy blue light turns on when the adapter is plugged in, so you know it's actually working. $30.
SOLAR CHARGER – 5Goal Zero Nomad 13
A portable solar panel that folds up neatly to magazine size, theNomad 13 soaks up enough rays in 5 hours (12 on cloudy days) to fully charge a smartphone, camera, tablet, or other device with a USB cable. Better yet, hook it up to the Sherpa 50 battery pack ($199) and you'll have enough juice stored (50 watts) to charge your iPhone or iPad ten times, or most lightweight laptops at least once. $199.
VIDEO CAMERA – 6GoPro Hero3
This camera attaches to a helmet, a surfboard, a bumper, a door, a windshield, or even your body to record high-def videos from unique perspectives with incredibly sharp wide angle-video. Catch – the navigation on the LED screen isn't very intuitive, and although the camera is sturdy, the various clamps and fixtures are fiddly, and the battery only provides about 1 hour of video time. From $200.

CHARGER – Mophie Juice Pack Air
This dream product restores your iPhone (or HTC One or Samsung Galaxy) to at least 70% power. It doubles as a case so it's almost impossible to lose. The Mophie itself takes two hours to fully charge, and if you forget your phone charger, you can re-juice both devices at the same time with the Mophie cord. $100.

SPEAKER – Jambox
A stylish, lightweight portable speaker (12 ounces), the Jambox can play for about ten hours, streaming music from your phone or computer through Bluetooth. It comes in nine colors and four grille designs, which you can mix and match. Catch – the ideal distance for streaming is within 33 feet. $130.

IPAD CASE – Belkin Ultimate Keyboard Case for iPad
The tablet/screen adjusts to several viewing angles and fits nicely on an airplane seat tray leaving room for a drink, and doubles as a protective case. Charge the keyboard via USB and connect it to your third- or fourth-generation iPad through Bluetooth for about 160 hours of power. $100.

CHARGER – Jackery Giant
A flask-shaped battery pack for smartphones, tablets, and anything else with a USB cord, it can charge two devices at once and holds enough juice to recharge your iPhone at least seven times. At 11 ounces, it's on the heavy side. Bottom Line: A bit unwieldy for on-the-go charging, but perfect for places with limited or no outlets. $50.
TABLET – Microsoft Surface RT
This tablet has a slim built-in keyboard/cover that doesn't add bulk, a keyboard and a kickstand. It has Microsoft Office Suite for business, and the Xbox sync capability for entertainment. Even with its lack of apps, it is the best substitute for a laptop. Catch – heavier than an iPad, a mediocre battery life (8-10 hrs) for watching movies, and an uninviting, unintuitive interface with difficult touch screen navigation at times. $350.
TABLET – Apple Ipad Mini
The mini ipad has access to both iPad and iPhone apps, and a cellular data connection that lets you avoid in-room internet charges. It provides intuitive interface and navigation, and its' ultra-portable size and weight coupled with outstanding battery life make it even better than the full size ipad. Catch – attach a keyboard if you want a lap-top stand-in, and cellular connection was a bit slow for videos. The mini iPad is affordable. 64GB, $329.
TABLET –  Samsung ATIV Smart PC Pro700T
A tablet-style core, an attachable keyboard, and a stylus add up to a great package. It is easy to navigate the Windows 8 interface, and has twice the storage space of the tablets above, with accessory ports. Catch – more expensive that full laptops, heavy, awkward to switch between tablet and laptop, and more of a laptop than a tablet. $1099.
TABLET – Google Nexus 7
This tablet is small, light, has a huge number of apps, has instant connection to Google apps like Gmail and Drive, and a great price. Catch – the touch keyboard can be a bit difficult to use. $199.
ACTIVITY TRACKER – Fitbit Flex 
This activity tracker has a simple and effective design for making walking fun (really). Five dots light up in succession as you inch closer to your goal; once you reach it, the device vibrates and lights up in a celebration that is truly gratifying. It is more accurate at measuring steps than most other trackers. Catch – a device you don't need, but may not be able to live without. $100.
HEADPHONES – Bose SIE2i Sport Headphones 
These sporty earbuds deliver crystal-clear sound in a compact package. An in-line controller and built-in microphone let you skip songs, change volume, and take phone calls (only iPhones); the phone itself slips easily into the adjustable armband that has an extra compartment for hotel room cards and car keys. Catch – heavier than standard earbuds. $150.

WATER PURIFIER – CamelBak All Clear 
This ingenious 750-milliliter bottle uses UV light to purify water in just 60 seconds. One five-hour charge with the USB cord lasts long enough to zap 16 gallons. Catch – it's only good for clear water sources and won't eliminate chemical contaminants. $99.
TRAVEL HATS – Tilley Hats
Not the latest thing, but worth mentioning if you don't know about them. Made for men or women in different styles and colours, Tilly Hats are virtually indestructible! Jam them into a packed suitcase, and they will come out smooth and ready to wear. You can even drive over them. $100 CAD.
The first 5 are my favourite travel gadgets, and the last one. 
Which gadgets do you like best? 
*If you'd like to learn more about little-known inexpensive countries and our crazy adventures,

click the link

below on Amazon to get the book, Travel To Little Known Places.