Before we tell you about Victoria Falls, we have to share a scary little adventure we had as we left the Urban Rose Hotel in Dar es Salaam, Tanzania.
Trapped
We had a 6 am flight to Victoria Falls, via Johannesburg, South Africa. Half asleep, we got ready in the dead of night, all quiet as everyone slept soundly. After dragging out suitcases into the tiny elevator, we pressed the down button and started moving. Then abruptly, the elevator stopped!
It was very hot in there. We rolled our eyes and laughed. Oh great! Just what we need.
The doors were slightly open but stuck. We tried to pry them open without success. I pressed the talk button and called "Hello. Hello?" No one answered. I called again. No response. It was getting hotter and hotter by the second. Surely we would die of heat exposure within 30 minutes.
We again started to pry the door open, and slowly got it open just a little, fiercely holding it open while yelling for help. No response. We yelled again, louder. Fortunately, we were near the first floor where the only person on duty at 3:30 am was at Office Reception. He came rushing to the elevator.
Seeing that there was a problem, he jumped up, helping to pry open the door of the elevator, and squeezed inside. What? I worried that now there were three heat-producing persons plus big luggage crammed in this tiny elevator built for two persons. We were getting short of breath already and steam was filling the hot humid cubicle.
The office attendant started pushing buttons, and incredibly, we started moving. A few minutes later, the elevator stopped and opened on the main floor. We escaped into fresh air, and hurried off to the airport!
Johannesburg, S.A.
KLM and South Africa Airlines offer amazing meals, even on one-hour flights. "Ukuhamba Kukubora" they say, "Travelling Opens a Window to the World".
The shops in Johannesburg were gorgeous! Filled with exquisite African carvings, purses, and jewellery I bought a lovely bejewelled elephant necklace and a carved wooden elephant face complete with tusks. They were not cheap though, coming in at $38 U.S. each.
Victoria Falls
At the airport, we bought our 30-day Kasa Universa Visas for Zimbabwe and Zambia at $50 U.S. each, and exchanged $20 U.S. for 362 Zimbabwe dollars, as well as $20 U.S. for 200 Botswana Pula. Cab to the hotel was $30 U.S.
N1 Hotel
The N1 Hotel was centrally located and reasonable at $79 U.S. a night, but  our room was extremely tiny, the bed filling the entire room.
You couldn't turn around without bumping into something in every direction, and there wasn't a single spot to put a suitcase. T wasn't feeling good, and just fell into the bed, falling asleep immediately.
I went out into the wide hallway, admiring the shiny floors and nice view over the balcony. Compared to that room, this was amazing.  A sweet cleaning woman named Love asked if everything was okay, and when I told her how disappointed we were with the crowded little room, she immediately showed me the luxury suite for $99 a night. It was huge, with a wall of windows on two sides, a bench the length of one long wall for suitcases, a king size bed, and a spacious bathroom with a large free-standing tub. It would be well worth the extra $20 a day. I immediately went down to reception and upgraded our room.
Victoria Falls: the city
Wild Boar
The next day we set out to explore the area, and were immediately face to face with a wild boar and her two young ones! I stopped dead knowing that wild boar can be dangerous. We were extremely nervous as they came within a few feet of us. Then I noticed a couple of locals across the street watching the animals with interest and amusement. As the animals moved past us, I asked if the wild boars were dangerous, and they said that they were "regulars" who wandered through the town and didn't hurt anyone.
Another day, we watched the wild boar from our balcony.
Local Hawkers in Victoria Falls
Almost every time we left the hotel, we were barraged with insistent locals enticing and begging us to come into a large open area next to the hotel with hundreds of open air vendors. The locals sell local products, and they sell aggressively and incessantly, all of them calling out at once to come and see what they have. It is really overwhelming.
Others run after you with goods in their hands, offering a "best price". It's very difficult to say "no" when you know how poor the people are in Zimbabwe, and that 72% of the people live in chronic poverty. The first few days we bought some souvenirs, but after repeatedly being harassed several times a day, we began crossing the street as they approached or turning away quickly. 
One night, a local vendor slipped past the front reception and came up to our room, finding us relaxing on the balcony about 9 pm. He was pushy and excessively trying to sell us an item we looked at earlier. We had to be very stern in telling him to leave. I reported the incident to the front desk who told us that not only were local vendors not allowed inside the hotel, but they were not to harass guests coming in and out of the hotel.
Line Up for Bag of Potatoes
Another day, the same locals selling goods rushed towards a truck giving out free bags of potatoes. It makes it difficult not to buy the products they sell.
Proceeding down the road to the more central area of town, there were more sophisticated bigger shops all along the road with beautiful big carvings in both wood and stone at high prices. They too are insistent that you come and look.
Victoria Falls: The Town
The town is clean, the streets are narrow, and there are some nice little shops in Victoria Falls. It's a walkable city for the town centre, and feels more like a small town than a city.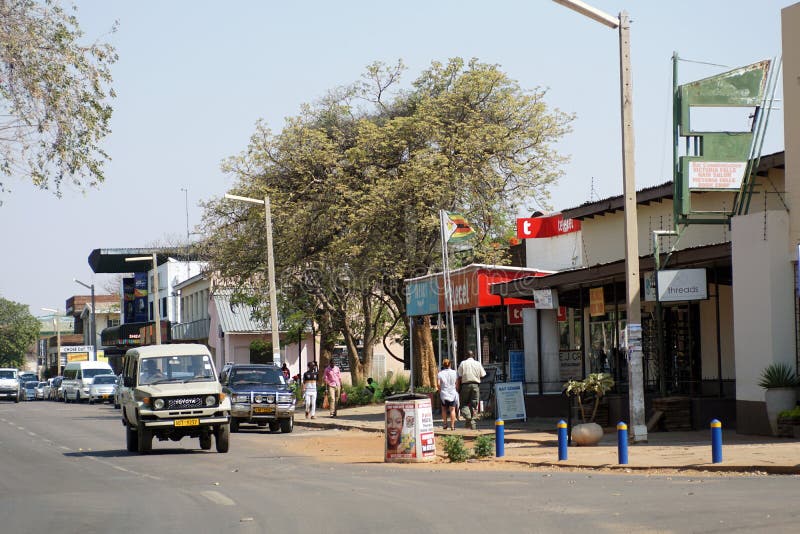 All in all, Victoria Falls is a rather charming small city.
The Falls
Although Victoria Falls are nice enough, they do not compare to Iguazu Falls in Argentina, or Plitvice Falls in Croatia, both of which are awe-inspiring. No, they don't even come close. Their claim to fame is that they are the tallest falls in the world.
So don't go to Victoria Falls for the Falls, but do go to the city for other extremely unique opportunities that we'll tell you about.
First, here is a peek at what you'll see at the falls.
I marvelled at this chair made without any nails or similar securings.
Beautifullly-made drums, as well.

There are no barriers on the cliffs overlooking the falls, and where there are barriers, they are rotting posts with barb wire.
A singular of wild boars were at the Falls as well.
At the bridge where you can see Zambia on the other side, there is a deep gorge. The roughly-constructed log barrier made me catch my breath when people leaned against it.
Near the end of the falls, there are lovely paths lined with oddly-shaped trees.
Then we came across these baboons playing on the walkway.
As it started to rain, the wet leaves of the rainforest glistened and sparkled like the waterfalls in the sun.
There is a nice little restaurant just before you come out of the falls.
Tips for Victoria Falls
Don't take a purse or a bag – the baboons will steal it. A baboon stole one woman's purse and jumped high in the trees with it, then proceeded to empty it, one thing at a time, ending with all her money fluttering down to all the people watching below. The onlookers picked up all the money and other items that fell to the ground giving them all back to the astonished woman.

Wear something you don't mind getting wet. The spray from the falls will leave you soaked.

The locals call the falls Mosi-oa-Tunya, which means 'the smoke that thunders', referring to the mist that creates a cloud over the area as the water thunders down. The mist from the falls is wonderfully cooling in the blazing hot sun, but you will still come back soaked with sweat. It is thunderingly loud.

Wear a backpack or something that is securely attached to your body.

Hang on to your camera, or better yet, keep it on a strap secured to your body.

Cover your camera with a plastic bag, or it will get wet!

Bring water: 2 bottles each.

A sunhat is a good idea, but again, with a strap.

Entry Fee was $30 U.S. per person (2020), a wheelchair, if needed, is $30.

Walking leisurely through the Falls will take about 2.5 hours.

The Victoria Falls thunder down into the Zambezi River which forms the boundary between Zimbabwe and Zambia, and although the Falls can be viewed from either side, the Zimbabwe view is the best.
Victoria Falls: The Crime Scene
After about two hours at the falls, we paused at the Bridge lookout where a guide was explaining something about the falls and the river below. All of a sudden a huge black baboon took a rapid dive down from the trees grabbing T's backpack. Quick as lightning, T grabbed onto the straps in front! The baboon did not give up! They wrestled with the straps, each pulling hard, till finally the baboon let go. Of course, I was standing there like a statue, mouth hanging open, so I didn't get what would have been a cool video. But I did get him escaping!